Customer Service in 2022
Today I was so grateful to get to spend a few hours in Boston with the amazing Boloco General Managers and leadership team. I estimate the average tenure in the room is about 15 years.
Our focus for today's meeting was customer service. And specifically, how can we revive Boloco's long-time obsession with providing incredible guest experiences. In preparing for the meeting, I went back and looked up everything we had ever published related to customer service. There is a lot.
But customer service is really pretty boring to most people. The words themselves sound overused and meaningless, especially when we know customer service is so incredibly non-existent in so many corners of our lives.
But today was anything but boring. There are so many exciting ways to make our customers happy, all we have to do is make sure people feel free to "cross the line" and "break the rules" when it comes to dazzling guests. Today we talked a lot about moving customers from recovery mode to customer for life. We will make mistakes. That's not going to stop, even as we never stop working to improve. But if we look at each mistake as an opportunity to show customers that we are fully committed to delighting them, mistakes can actually be the ironic moment when our jobs get interesting and fulfilling.
You know. Sadly, not much has changed.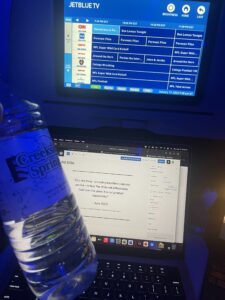 In June 2000, I sent the note below to all of our team members on customer service. And here we are in January 2022, over 20 years later, still looking at customer service as a skill that we can actually be best at…. I'm not talking just good, the very, very best. People can debate who serves the best burrito or bowl, and no matter what we do the debate will continue. But our discussions today yielded ways to delight anyone who enters our restaurants in ways that few if any can match. Boring? Not really. Fun. Lots of fun.
PS. As I was writing this, while in flight on JetBlue, they were handing out small glasses of water. When I asked for a full bottle (because I didn't want to ask for more small glasses) they said they only had the really huge 50oz bottles. "Would you like one?" the flight attendant asked. "Is it ok?" I said, now feeling like I was getting too much. With a smile she nodded and shortly after brought me this huge bottle of water. I can almost assure you that American would not have done the same. I 🖤 JetBlue.
June 2000

Team,

We're winning the customer service battle!!  While we are nowhere near perfect, we are doing better than many of our competitors and colleagues in the quick-serve food business.  

During my travels last week to Connecticut, western Massachusetts, Ohio, Indiana, and Chicago, IL, I was astounded at how many "popular" restaurants failed to take care of their customers.  

At Starbucks, I believe that lack of communication between upper management and the 2,800 stores is taking its toll; many of you know that I often come back from our Boston Starbucks with a hot coffee and a funny story about horrendous customer service, but it's happening all over the country.  Customers walk out dissatisfied from Starbucks (including myself), and the majority of its employees don't even flinch – it's kind of incredible!  

At McDonalds just outside of Columbus, OH, I waited 14 minutes in a drive-thru that had 6 cars ahead of me…. Not even a hint of an apology, let alone an offer for some or all of my money back.  At another coffee shop, a customer had a coupon for a large coffee, but he wanted to pay the difference for an extra large… the cashier said it was not allowed.  And many of our Managers will remember that fateful day when we descended on all of our local shops, and had an eye-opening series of bad service experiences.  

This one thing – providing excellent customer service – is how The Wrap will differentiate itself over the years; it is our greatest opportunity!

All of you are doing a superb job of being respectful, attentive, and courteous to almost every customer that walks through our door.  It is that simple, consistent, and RARE habit that is bringing more and more customers to our restaurants with each passing day, week, and year.  

This past weekend, I attended the NRA Restaurant Show in Chicago.  Of the thousands of topics that were discussed, the most important, and most perplexing to restaurant owners, was how to find good people who know how to treat customers well.  It was very satisfying to know that The Wrap has a great number of these "good" people on its team already – so many of you know how to treat our customers well – you do it on a daily basis! You are the people that continue to make The Wrap successful. 

I offer my sincerest gratitude and thanks to those of you who have dedicated every shift to the creation of loyal and raving customers!