Winning by Losing
Most professionals can't actually internalize the following thoughts on grit by Adam Grant. As someone who has long subscribed to passion and perseverance as, literally, my top two character traits, I can attest that on their own they can be as deadly as they are powerful. What follows is a reminder that there are always two sides to positive attributes… too much of a good thing is not always good.
Take a read.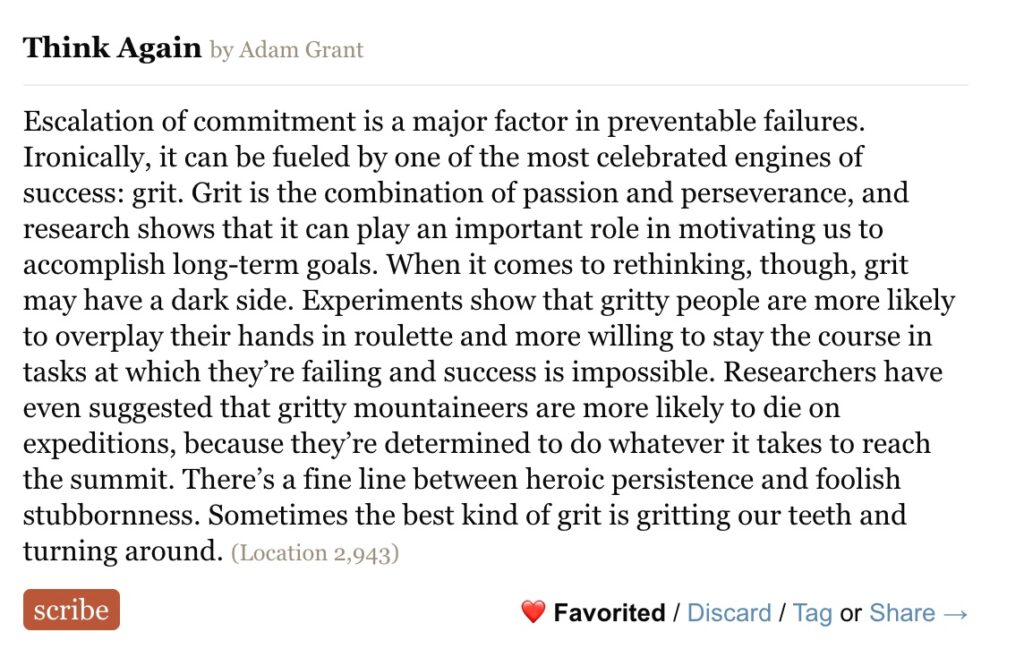 "Failure is not an option" is a famous line that came out of the 1995 movie Apollo 13. Even though flight controller Gene Kranz didn't mutter those actual words in real life, he did reflect back when interviewed many years later saying "when bad things happened, we just calmly laid out all the options, and failure was not one of them." When lives are at stake, perhaps failure isn't actually a real option to consider seriously (even though its certainly a possibility). Winston Churchill said something similar. "The courage to continue…" Without context, we all just blindly fight forward.
In business, we too often apply that same "failure is not an option" concept to situations where ironically failure would be one of the better outcomes for all involved. A failed negotiation or losing a highly competitive deal feels horrible until months and years later when the "winner" succumbs to the reality of having overpaid or having been way overconfident. 
In 2008, Boloco failed to secure the exclusive rights to be the Official Burrito of the Boston Red Sox and sell our delicious menu during home games. We weren't even close apparently, having bid what felt like an eye-popping $150,000 per season and even raising it to over $200,000. In the end, with the fear of massively capitalized Chipotle entering the Boston market, Qdoba outbid us at over $300,000 per year. That was a near miss. When the recession hit only months later and we all ran for cover for nearly 18 months, winning that contract would have likely put us under. The local franchisee for Qdoba was insolvent within a couple of years. They won every real estate negotiation they entered as well. I remember feeling so small because they had such a stronger business than ours to handle those nose-bleed rents. In the end, it was mostly pomp and little substance. In 2013 we were looking at nearly all of the sites they had to close.
I wish I had a formula to share that could help others know when to back down versus going for broke. But I know few people who have cracked any code that works consistently. As we gain more experience in our chosen craft, we need to realize that our gut instincts are slowly but surely becoming more informed. The fact that the "FOMO" dynamic is often in play (by design!) and that the short-term pain of losing is too much for many to handle makes it harder to walk away from something we originally thought represented a real win. When you do it, though, there are more times than not that you realize you dodged a bullet by losing.
Of course, the stories we read about are the exceptions. The big wins. The fortunes that were made because someone took an irrational risk. Those tales energize and inspire us, but for every one of those there are countless failures.
Get to know how you feel about yourself and your future prospects when you do fail, because if you are someone who doubles down when things aren't going right (like yours truly) what you thought was painful is nothing compared to the pain of sinking even deeper. It's just important to be aware and confident that stepping away, losing the battle, not being chosen in the short-term could – ironically – be critical ingredients to your long-term success.