OH NO!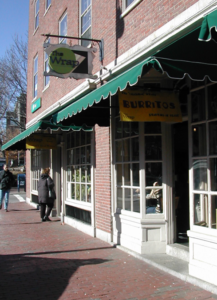 OH YES…The rumors are true. In a few weeks from now, after 19 years, 4 months, and 20-something days (who's counting, though, right?!) Boloco's time in Harvard Square will likely be coming to an end. We expected this day was coming for at least a year now, and if we're honest with ourselves a lot longer than that.
In early 1998 when we first opened in this location, we were just about the only game in town. National chains had a hell of a time getting in – there was Au Bon Pain (local when it originally opened) and Starbucks (which bought out local Coffee Connection in the mid 90's). We were so small (one other location at Berklee College) that we slid right in.
The Wrap, as we called ourselves from 1998-2004, and later Boloco (for which the Improper Bostonian bestowed upon us a Boston's Best award for Stupidest Name Change) on Mt. Auburn Street was our #1 location for over 10 years. We frequently served 1,000+ people per day in this little 1,000 square foot location with 10(+9) seats and a 1 cubic meter former mop closet for a bathroom. When other Wrap/Boloco locations we opened around New England struggled in their early days, it was the Harvard community that kept our whole company afloat. The Harvard Boloco teams for years had a certain swagger that bordered on annoying to those teams who weren't faring as well… Harvard took all of the awards, they smiled a lot, and most importantly they worked so damn hard.
Everything changes. Competition is always evolving, usually growing more intense. We held our own through Real Taco (2004), Felipe's "phase 1" in the Garage, both Chipotle (2008) and Qdoba a bit later. Sure, it often felt like a bad war movie with arbitrary bombs dropping constantly, but we kept pushing through. In time, however, it wasn't our direct "burrito" competitors that caused us to lose our shine… it was our own set of shortcomings, as well as impressive non-burrito food competition that showed up from all over the country and even the world. Bite by bite we lost our edge, our "coolness" some say, and finally that aforementioned swagger. Many of our loyal Harvard customers experimented elsewhere. We have tried to lure people back, a million and one ways I promise, and we are so appreciative of the 200-250 guests per day who choose us even now in 2017.
Nothing is meant to last forever. And especially not restaurants. With our departure comes an incredibly exciting new business (pending permitting of course!) that will contribute greatly to the Harvard Square scene. A uniquely humanitarian company, Zambrero is on an incredible journey. They pick up on some of the "people first" initiatives held near and dear by us at Boloco while serving delicious fare. We know them well and respect their mission immensely. Just wait… you won't be disappointed.
And speaking of people, all of our team members at the Harvard Boloco will be offered positions in other Boloco locations or with our successor.
Boloco is still cranking away in many locations across the river. Yeah, it's a battle over there too, and if you are interested in learning more about our journey of the last two years, feel free to visit boloco.com for the whole story. We aren't ashamed that we are ending our run after 19.5 years… we loved being here, we loved thousands of you, and we can't tell you how much it meant to be part of the fabric of this community.
See you when our paths cross again. With gratitude and appreciation.
John Pepper (CEO & Co-Founder and all of your friends at Boloco)