My First 100 Days in Small Town Politics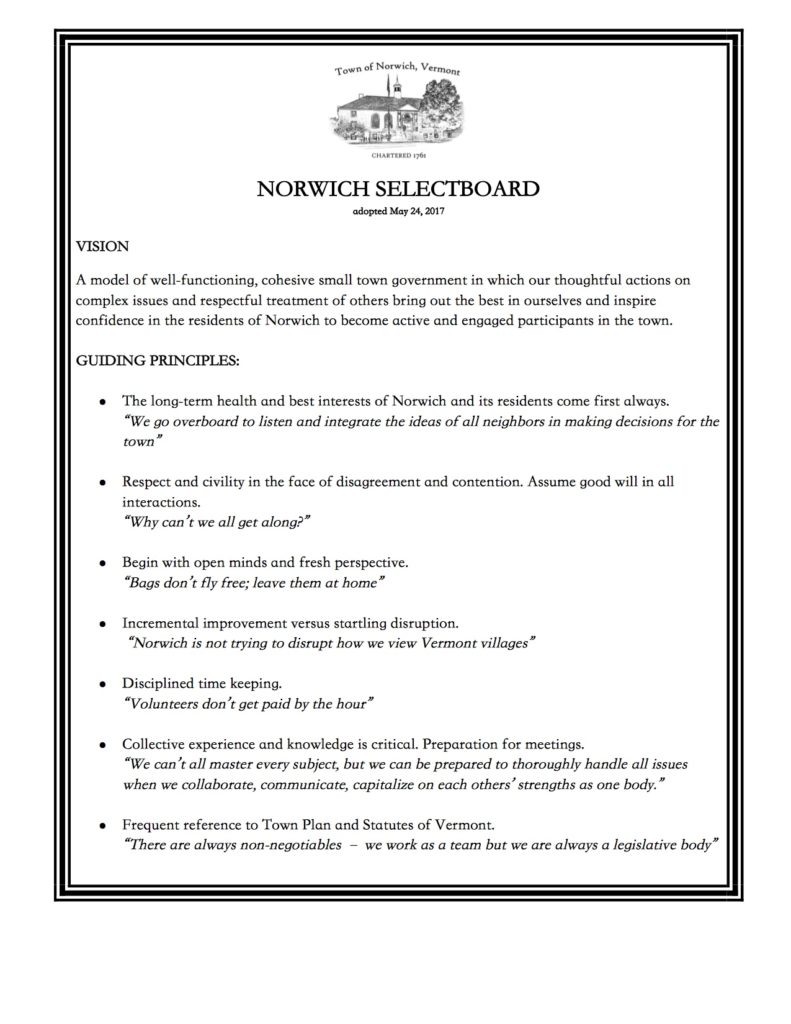 It's good to be new. I enjoy not knowing the rules of the game, not being sure what I'm not supposed to say or not say, and being given a pass for asking "stupid" questions.
As a neophyte to the Selectboard of Norwich (VT) and politics in general, I've been forced to focus on learning, listening, and working with people with varying agendas rather than imposing my own views on any particular issue.
For me – and I know many others, but certainly not everyone – the first need of any organization that doesn't already have one is a thoughtful vision and set of mutually agreed upon guidelines that align everyone on why we're there, what we're trying to do, and how we want it to feel while we are fulfilling our responsibilities. In Norwich, on May 24, after a series of public discussions led by Lauren Girard Adams, we enthusiastically adopted the Norwich Selectboard Vision and Guiding Principles that you see here. Hardly perfect and most definitely incomplete, it does nonetheless serve as a base upon which we will hold ourselves accountable in the coming years. If changes are needed, they'll come up and the necessary adjustments will be made appropriately.
Great. The easy part is done.
The hard part… the messy discussions and disagreements that surround policy and philosophy… is proving to be just that… hard.
As my novice Selectboard status slowly fades, and the unique insight and "innocent" observations of any newbie disappear with it, I'll share the following:
Deep levels of trust between opposing factions are absolutely imperative… and yet all too often missing, and yes, most definitely absent from many debates amongst the people of Norwich. If we, in a town as small as Norwich, can't agree to make every effort to trust each other's good intentions, how then can we ever expect real progress to be made? It shouldn't require personal attacks on others, or petitions, or shutting out voices, etc. Good progress requires a commitment to listen and to compromise and find the best solutions within the opposing arguments. It can be done. I believe we can do it. Which brings me to my next point…
Over-communication. Yes, over-communicating requires extra time away from family, work, and other priorities for the people involved – often in the form of seemingly endless meetings, email chains, etc. And to some, it's painful and frustrating to have to explain or listen to the same points of view over and over again. But that is what we have all signed up for. That is democracy – it always has been. If you choose to trust the committed volunteers, engaged neighbors, and elected officials of a town… which is what most of us choose to do out of necessity… then you are off the hook and really don't need to worry about spending time in these long-winded gatherings in the basements of town halls. But if you choose to care, to be involved, choose to raise your hand and share your point of view, you better be ready to dedicate real time to that endeavor. It doesn't cost you money or time to share your opinion… but if you want to truly make an impact and have your voice be heard and perhaps help shape policy, you aren't going to get away with a quick fly-by.
One final point occurred to me – like a frying pan occurs to you when someone raps it over your head – during a conversation with friends at the Norwich Inn the other night. Some differences of opinion are so vast that it's hard to fathom they exist until an adequate number of Whistling Pigs have been consumed and tongues start rolling a little easier.
It had to do with Education. Seeking the finest education reasonably available – and often unreasonably – has always been a given for me and nearly anyone I've spent time with, including my wife Maggie. It goes without saying that every Norwich parent I know with kids at Marion Cross, RMS, Hanover High or one of the plethora of boarding schools in and outside of the area feels the same…
Or does it go "without saying"?
Back to the Inn, and the other night, I was hearing stories of residents who despised – literally – the overblown emphasis on the Norwich (and Hanover) school system. Who feel the teachers are overpaid. One unnamed neighbor has apparently asked "why should a school teacher feel she should make more than a bank teller?" I didn't know where to start on this. I know my head was in my hands… working hard to understand the point of view I was hearing. I respect bank tellers – I was one for a few months out of college and it can be tough work – but I view teachers as having one of the most critical jobs of all jobs out there. I never imagined people could feel otherwise. Education needs help, that's true… and it needs to evolve… but should today's structural problems be taken out on the school teachers themselves?
On one accusation, my family is guilty as charged. One of the main reasons we chose to return to Norwich in 2014 full-time was because of the solid education our kids could receive – Norwich, after all, was ranked #1 in the State of Vermont in one poll two years ago, slipping to #4 out of 175 schools in 2015-2016… and there was some other poll that ranked Marion Cross #6 in the US…  not bad. But what I've come to find is that this practice of seeking (and paying for) better schools is looked down upon by those who feel they unfairly are forced to pay into education that "makes no difference". Some ask… what proof is there that it matters? Why can't we be like, say, like "thistown" or "thattown" where teachers are paid below average, where taxes are less, where less people go to college. Seriously. People say this. Smart people want our teachers to be compensated below the average state pay, not above.
For at least a couple of days this point and others stuck with me like a goose egg would after being hit by that aforementioned frying pan. I didn't have a solution. This wasn't about lack of trust or communication anymore. This was a completely different world view that I now will need to work hard to even begin to understand in the coming weeks and months.
If I've learned anything over the last 100 days, it's that I still know very little. My skepticism grows, to be honest, the more others claim to know the answers. Our job as members of the Norwich Selectboard is to help get to the best answers and solutions using the resources we have and the collective wisdom of our residents. No doubt we have a lot of cooks in the Norwich kitchen. Maybe it's best for some of us to stay outside the heat of the kitchen at times to maintain perspective. For me, I'll try to keep my "neophyte hat" on for as long as possible and continue to, as stated above, focus on learning, listening, and working with people with varying agendas rather than imposing my own views on any particular issue.