"Can I Tip You in Bitcoin?"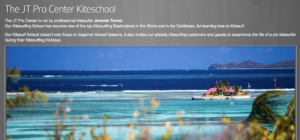 In December 2014, I took a last minute trip to the Grenadines to brush up on kiteboarding. I had first started in earnest that spring, and with time on my hands "between jobs", I just went for it.
JT Pro Kitesurfing on Union Island is fantastic. An island that for years stood as the last stop between 10 hours of travel and a final boat ride over to my absolute favorite place in the world, Petit St Vincent, Union has a tiny airport where the plane has to make a tight hairpin turn as it veers onto final and then drops quickly to follow the hillside to the runway. A few surly customs personnel and that was pretty much it.
JT is short for pro kitesurfer Jeremie Tronet who showed up about 5 years ago and turned this sleepy island into a kitesurfing paradise. I had no more excuses not to learn once he opened his center just to east and south of that terrifying runway.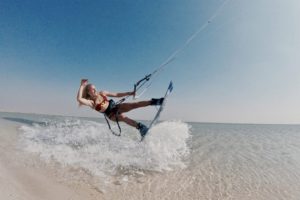 Isabel was assigned to me as my instructor. The wind those 3 days wasn't terrific… it was disappointing other than I got really, really good at flying the massive kite in low wind conditions, which is apparently important down the road. I got up a few times, although nothing like my first days on the board earlier that spring… check out this video for the path of this novice kitesurfer.
Here's the thing… when I flew back to the US a few days later, I had not had a chance to tip Isabel as one normally would. And it was quickly clear that there was no way to wire her money or send her a check.
"Can I tip you in Bitcoin?", I asked via Facebook. Surely thinking it was a scam, she agreed, likely thinking nothing of it. I sent her $100 in Bitcoin anyway. I had 12 coins at the time worth about $3800. Seemed like a good way to do it. While I was at it, I sent my brother Doug $37.90 in Bitcoin and I tipped an important non-profit called CSNYC a few times on Fred Wilson's recommendations. I tried to send some Bitcoin to the manager of the Boloco in Hanover but for some reason it kept rejecting… how I regret that today.
In the early phases of Worthee development (not that we aren't still in early phases, since the 5 of you reading it haven't even heard of it… yet) in a chat with my Polish developer I asked him to consider how we might add Bitcoin tipping into the app. Here is the dialogue, and here is Fred Wilson's link that got me started on this path in the first place.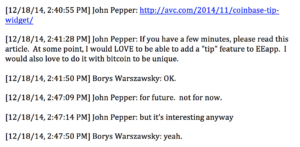 Fast forward a few years, and well, we all know what's taken place. As of this writing, 1 Bitcoin is worth not $322 like it was when I was being so generous with my tipping, but over $17,000. SEVENTEEN THOUSAND DOLLARS!
I had long forgotten about the tip to Isabel, and the little push to my bro, but when I was reviewing my Coinbase account a few weeks ago I ran into them early in my list of transactions.
Isabel's $100 tip… now worth approximately $5,000!
Doug's measly $37.90… over $1,800.
I reached out to Isabel on Facebook, and we were still connected. I delivered the news, half hoping – that greedy part of all of us shows up at times like these – she had never accepted the Bitcoin and I could put it right back in my account. A couple of days later, she responded… and it obviously made her day, and therefore mine! She had accepted them and then forgotten about them.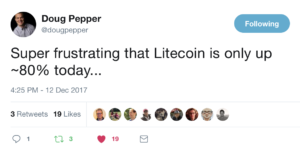 As for Doug, he's still searching for his… we'll track them down. In the meantime there is now Ethereum and Litecoin, all of which have increased by truly insane amounts in the past days and weeks, to which he made a joke on Twitter that earned him some likes. And I concur… it really did seem frustrating after these fast run-ups when LTC or ETH would pause for a while. I wonder how we will all feel when it drops just as fast?!
You might be wondering… do I still have those original 12 Bitcoin? Of course not. That would be worth over $200,000 today! I'm just not that smart or lucky. When Bitcoin went up about 20% a couple of years ago, I thanked my lucky stars that I hadn't lost my $4K and sold chunks of it here and there until I was left with just 2 this summer. Well, I was happy with the 2, plus some of the ETH and LTC I purchased this fall, but this lottery ticket wasn't mine for the winning… not this time. Almost famous, as they say.
Will be fun to watch what happens next…