Peloton Words for 2018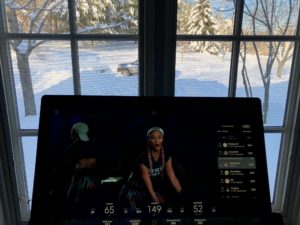 I spent 60 minutes on the Peloton yesterday, mostly listening to a Podcast. At one point, thinking about the incoming year 2018, I decided to stop listening and instead record words that came to my head that I wanted to describe the coming year. Words that I would want to hear more of, feel more of. Here they are exactly as they were recorded by my iPhone.
Kindness grateful responsible profit empathy others first the platinum rule good food warm spaces fourth place welcome variety inclusiveness putting it all at risk new inspiring inspired can do of course yes we can help go further look deeper care more stop pause be present appreciate help others find new ways help lift others bring people along don't leave others behind give people a break help people find their strengths help people overcome weaknesses beautiful meaningful bring meaning make it count laugh more warm smiles loving hearts winning with each other timeless presence generous grateful healthy passion persistence create luck good fortune desire that burns commitment to do right by others boldly decisive inspired by what is right inspired by what is beautiful mind disciplined positivity contagious optimism affective empathy calm free mind sustainable growth responsible growth
These aren't new words. And just like sticks and stones hurt my bones but words can never hurt me, they also can't help me unless they are accompanied by action. In 2018, I plan to take a lot of action – personally, through Boloco, and through Worthee – with these words in mind.