Overhead Wires
If you ever wonder why its so obvious that we live in the dark ages, think about the overhead electrical wires that drape nearly every square foot of our roads, neighborhoods and homes. I'm not sure why I started noticing wires, but I remember when it started… it was in the mid 90's when I was looking at apartments to rent in San Francisco and wondered who had allowed such a mangled and dizzying maze of random wires to block virtually every view in Cow Hollow.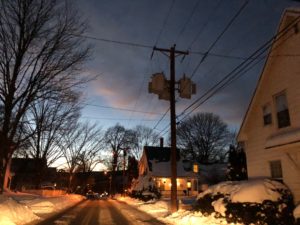 Tonight as I drove home from Hanover to Norwich, I looked up and saw 4 junction boxes.  An otherwise beautiful neighborhood kind of destroyed by criss-crossing lines and these massive boxes that just had to be mounted on this pole – and many others nearby – in their most raw format.
It's ironic… in Norwich not so long ago there was a big debate about a very old tree that might have died had a proposed sidewalk on Church Street moved forward. The sidewalk, of course, is needed to keep kids and families walking to school or into town safe from vehicles on the road. So far, the tree has won. And I'm ok with that because I think we'll find other solutions.
But then – why is it that we allow Green Mountain Power to pop into town every year or two and at their will – with no practical recourse I've ever heard of – chop off any tree branches or at times full trees on private property that might, potentially, not definitely, threaten their precious wires. They have a perpetual right of way, as it turns out, and nobody questions them or asks them to invest in cleaner, more aesthetically pleasing appearances.
And if a homeowner or business tries to make improvements, renovations, place outdoor signage, or anything really, the permitting process to do so can be cumbersome all around the country. But when Verizon wants to mount new technology on a new pole on the Norwich Green, they almost assume its going to pass, offer to pay $1 and then when pushed $1,000 for a perpetual right to control some of the most valuable and important property in the entire village. Thankfully it came in front of the Selectboard and we said no – for now. Maybe for $1,000,000 and donations to some of our local non-profits we could consider such a thing (speaking for myself, as always).
I'd love to see municipalities begin to put pressure on cable companies, electric companies, and any other utilities using these poles to string wires to find new solutions that will not make future generations wonder why we for so long allowed our landscapes and natural vistas to be blighted by obviously arcane systems. As costs to connect power, communications, and entertainment wirelessly drop, or the necessity to house wires 25-50 feet above the ground is reconsidered for something less invasive, I hope we ask for investments that help our roads and towns regain the natural beauty they would have enjoyed 100+ years ago.