Mowing with Jason & Harry
Since moving from Boston to our current home in Vermont six years ago, we've enjoyed a pretty massive back yard. It should be a field… it's 2-3 acres of lawn, and then about 1.5 miles of trails on the "back 40" that need to be mowed every couple of weeks through the summer. In addition, every fall I hook up my DR Brush Hog and begin the slow process of clearing out growing shrubs and saplings in the actual fields (the "back 40" refers to the back 40 acres of our property) that by an inherited agreement with a local Land Trust organization must not be permitted to grow into trees and forest. That first year was daunting – we ended up hiring people to do a lot of the work because I fell behind. It was expensive as hell.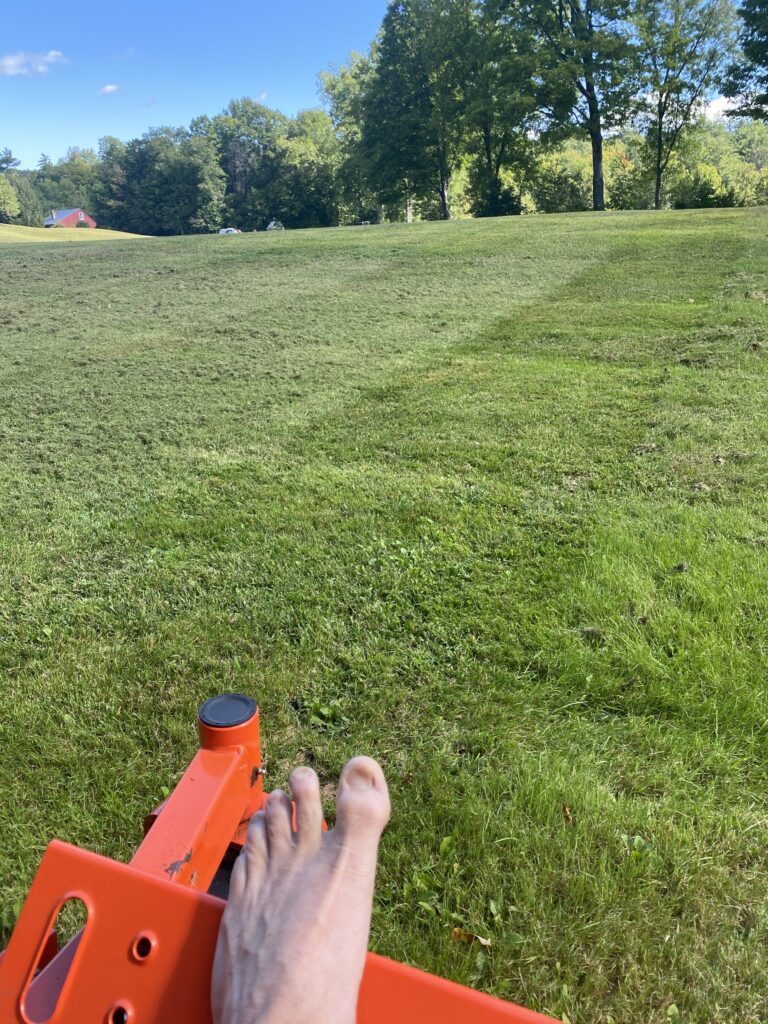 At some point, I wondered, why did we get all of this land if I'm not going to enjoy it? I do love mowing the lawn. It has always given me some inexplicable satisfaction. But this time around I felt I couldn't justify the time… it takes a few hours from start to finish.
Up to that point, Audible from Amazon was something I typically saved for long car rides. But with my noise canceling Bose headphones, I realized I could listen while mowing grass, maintaining trails, and brush hogging the fields. For a few weeks in the spring and summer of 2015, it worked like a charm. I was no longer wasting time. I was on my shiny new orange Kubota 60″ zero turn that I shared with a neighbor, mowing and learning at the same time. When I bought back Boloco that same summer, however, I fell behind again. I was traveling again. My wife gradually brought the professionals back, despite my avid protests, but she was right – our yard was looking like a field more often than ever and I wasn't usually there to witness the betrayal anyway.
One day in the fall of 2015 I was in a meeting in Boston and Izzy, our 10-year old at the time, called me up and said "Daddy, daddy, the mowers are here again!" I had recently proclaimed my deep desire to take back control of the lawn once and for all and Izzy had heard me loud and clear. Maggie wasn't home and so I had Izzy march out and put the grass cutters on the phone. "I'll pay you in full, but please don't cut even one more blade of grass", I told them. "Please leave it just as it is and I'll pick it up from here. And if anyone asks you to return, please don't come. I want to do the grass. I will do the grass. I need to do the grass."
I heard later from Maggie that they truly thought I was out of my mind. Of course they were right.
Having recently, at the time, been dabbling in getting what is today called Worthee up and running, I was studying technology startups with great urgency and frequency. Someone suggested I listen to the podcast "This Week in Startups" by Jason Colonoscopycasimist or something like that. In the car from Boston back to VT one day I finally listened to an episode, having rarely been motivated to dig into podcasts of any kind previously. I was hooked almost immediately. Sure, Jason (Calacanis) was a little head strong for me at first, especially in his having invested early in Uber which by then I was not a fan of as I had once been, but here in bite-sized episodes I could learn a ton from other investors, entrepreneurs, and even aspiring entrepreneurs. And Jason didn't sugar coat anything – I knew I was getting steeped in startups and technology quickly.
Line after line I worked on the lawn, the trails and the fields. Week after week. Season after season. Jason was the main energy in those early days – TWIST kept me on task, especially when he added "Angel" to his book and then podcast repertoire. Since 2015 I've invested in about 20 companies, and the guts necessary to do so came largely from what I learned reading Angel and listening to the podcast. I added in a few other podcasts that kept me in sync with Mother Nature, too. Maggie didn't need to call the pros any longer. How I Built This with Guy Raz, Masters of Scale with Reid Hoffman, NFX, as well as a16Z. By the way, if you want to know my favorite non-tech/startup podcast, its Pitchfork Economics with Nick Hanauer which goes deep into the subject I'm most passionate about, income inequality, as well as neoliberal economics… a lot of people I know are offended by Nick because he, too, is a straight shooter, sometimes goes too far, and doesn't care if he upsets people, but I learn a ton from that podcast (as I did from his TED talk, The Pitchforks are Coming, which was once removed by TED for reasons I can't remember as I write this many years later).
Early in 2019, I randomly ran into the 20minuteVC podcast hosted by a young lad from the UK named Harry Stebbins. The first episode I heard was with Dayna Grayson from NEA and a couple of episodes later came Bill Gurley. I've listened religiously ever since, sometimes in the car, but mostly while perfecting my lines riding the Kubota.
A few weeks ago it occurred to me that Harry had done like 2,000 episodes already when I started listening. His style is confident, cool, witty… as one might expect after so much practice. But what was he like in the beginning, I wondered. And when did the podcast "break out", find its own escape velocity?
I started from the beginning. Episodes 1-20 were slower, Harry and the guests were far less prepared, and they even had minor audio issues here and there. There were no sponsors or ads, and featured almost all British or European VCs and entrepreneurs. I especially appreciated episode 19 when Harry lost his voice, and went ahead with the episode anyway. He seemed to lose his voice once in the 30s too.
But it was Episode 41, aired on June 1, 2015, which I listened to last night while struggling to follow my lines on the lawn as the sun set and the sky darkened, where everything changed. It started with an ad… the first ad… about a company that helped Harry find his first assistant. And the guest was none other than Jason Calacanis. Harry took on the voice and personality that more closely resembles who we listen to today. The 20 minutes pushed to over 45 minutes, and Harry jumped in with questions before Jason was completely finished almost as though he knew this was the chance for break out. He even asked Jason when he knew that TWIST was going to break out? Could Jason have known that he was in the early days of a podcast that would someday rival his own? I don't think so, though the two spoke in such a way that it wouldn't have seemed unlikely to those listening at the time.
A few things happened here, as I listened. First, Harry made Jason sound like an empathetic human being for the first time I could really remember. I respected Jason's work ethic and persistence, but he was all business all the time. Never did I sense even the slightest bit of of humanity in Jason. Harry's interview changed that for me. Second, Harry was absolutely embedded in the conversation in a way I didn't perceive to be the case in the first 40 episodes. It was like he found his voice, his tone… it was the day that 20minVC we know today was actually launched.
We're moving soon across the river to Hanover, NH to a smaller house without a real lawn to mow. I'll miss the excuse to binge listen to these guys as I have, but I'm sure I'll find a new place to further my education. In any event, the Harry and Jason have saved me many thousands of dollars by motivating me to get out and mow the lawn. And hopefully some of my angel investments will hit in the future (Covid not super helpful on that front!) and then I will have essentially been the highest paid lawn boy in New England these past few years 😆
Day 6 🤪