Imagine…
I went to a "Mighty Flow" yoga class tonight. It was actually at 4pm but since it was already getting dark when I arrived it seemed like night. It was also 5 degrees above 0… the warmest it had been all day.
The class was great. I have mostly done Bikram Yoga for the last two years so this was a nice change.
The secon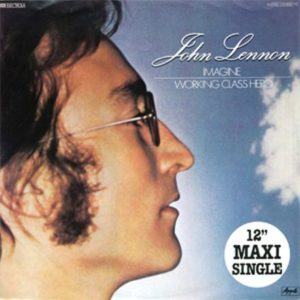 d to last song was Imagine by John Lennon. I know I hear that song once in a while, and I still think its beautiful. But at the end of a yoga practice, as Shavasana is beginning, the words and the tune are indescribably soothing.
Not more than a few days ago, I read a blog post comment (I can't find it now) claiming that the song Imagine was a farce, and that John Lennon was contributing to the "do-nothing" society of complainers we have today. Imagining, the author said, wasn't enough. People had to stop imagining a world that can't exist and get real about the one that does.
As I lay there with eyes closed, listening to the lyrics, I couldn't help but think how wrong that poster had been. Everything starts with a vision – whether intentional or inadvertent. I think Lennon's vision of how the world could be is exactly what we need more of these days. Some people are the dreamers, and some of us are the doers. Some of us are both, some of us are neither. Some of us really do nothing, but let's not fault Lennon for having a dream.
With less than 36 hours until a New Year, it helped crystallize how I will finalize my New Year's Resolutions for 2018.
As a reminder, here are the lyrics… it's true that some people take offense to a line or two in there (religion, heaven, etc.) there's a lot to gain from it on the whole.
Imagine there's no heaven
It's easy if you try
No hell below us
Above us only sky

Imagine all the people living for today

Imagine there's no countries
It isn't hard to do
Nothing to kill or die for
And no religion too

Imagine all the people living life in peace, you…

You may say I'm a dreamer
But I'm not the only one
I hope some day you'll join us

And the world will be as one
Imagine no possessions
I wonder if you can
No need for greed or hunger
A brotherhood of man
Imagine all the people sharing all the world, you

You may say I'm a dreamer
But I'm not the only one
I hope some day you'll join us
And the world will be as one